As strange sights go around a baseball field, the one outside Henry Field Saturday morning topped them all.<![if !vml]>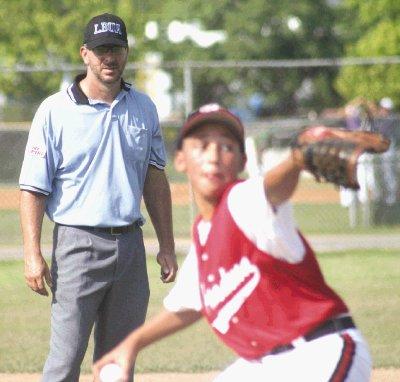 <![endif]>

Right there by the parking lot was a boy handing an umpire a baseball so he could autograph it. Was the boy out of his mind? Never in a million years would one expect to see a sight like that. But then this was no ordinary run-of-the-mill umpire in his usual blue garb.

The umpire who had just finished making the calls in the field between Pasadena's 13-year-old All-Stars and a Louisiana squad in the Coast Region Pony Baseball Tournament was Ben Weber, a member of the 2002 World Champion Anaheim Angels.

"I had this umpiring gear that I bought 15 years ago. It was brand new and I saw it in the garage one day, and I said, 'You know what, I'm going to start umpiring again," Weber said. "I love it so much."

And Weber was one of the players Angels fans loved during the 2002 season when Anaheim used a 99-victory march during the regular season to collect the American League's wild card, catapulting the club to that season's world championship when the club knocked off rival San Francisco four games to three.

"That was by far the best year in my entire life. At the beginning of '02, my wife and I had triplets and that started in spring training. I got to miss two weeks of spring training which is always a good thing because the first two weeks is so long. I ended up having my best year ever. Most importantly, our team won the World Series," Weber said. "You can't beat a better year than that."

In the World Series, Weber made appearances in four of the seven games with mixed results.

"I did really well in three and the fourth I gave up five runs, but we won't mention that," Weber joked. "It's funny, but that's what everybody remembers. The game was already out of hand."

Working out of the bullpen, Weber went 7-2 with seven saves out of 10 opportunities, ranking him in the American League's Top-25 for saves leaders that summer. In 63 games, he finished with a handsome ERA of 2.54.

A native of Port Arthur who took his talents to the University of Houston, Weber relied on two pitches. <![if !vml]>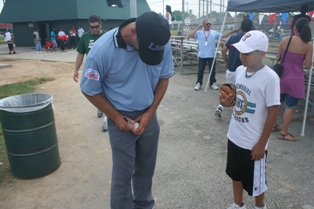 <![endif]>

"Sinker, slider. I was a set-up guy. I came in and here you go, hit it. That was basically my philosophy," Weber said.

But from that first year in 1991 when the Toronto Blue Jays drafted him in the 20th round, Weber made it a point every off-season to devote some time to umpiring.

"I've been umpiring on and off for 20 years," said Weber, who is currently taking classes in town at Texas Chiropractic College.

"I like being on the field. I love the 14 and 15-year-olds and the raw talent they have. I just like watching the talent, especially at this level and I love baseball," Weber said.

With his background, Weber has used his experience to help the very same youngsters he's watching like a hawk in order to make the right call.

"Absolutely. Not during the games. Only in the non-significant games, I'll give a tip here and there. It'll usually be when a kid's warming up on the side. Coaches have come up to me after games and asked for my suggestions. That's what I enjoy doing too," Weber said.

After the 2002 season, Weber would go on to play briefly for Cincinnati and Toronto, but he always knew that his love for umpiring would always be there. And this weekend, he has shown that love for enforcing the game's rules during the two big Pony tournaments the city is hosting.